In The Snow
December 7, 2003

This past weekend brought us a Nor'easter, and we received about two feet of snow.
The landscape looks entirely different in the snow, so I took some pics.

Click a thumbnail to see a larger "summer" image,
then click the pic again to see the "winter" version!


---
The "Barn Cut" (thru old barn's debris pile)


---
The "Walkout Cut" (nearest to the basement's walkout)


---
The entrance to the "Big Cut"


---
The exit of the "Big Cut" (looking back into the cut)


---
Side view of the 1st truss of the Deck Truss bridge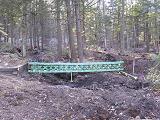 ---
End view of the truss (looking toward the house, which is above the top of the pic)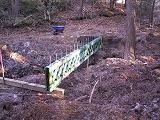 ---
Other side of the truss (looking downstream)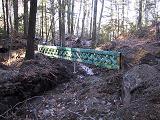 ---
The "WidowMaker" (a cut tree that got stuck in another tree... it'll fall someday without warning!)


---