Retaining wall around a beech tree
October 24, 2004
---
A big challenge to building a railroad in the New Hampshire woods is trees - they're everywhere!
The stretch of track that will run between the old barn and the big trestle will be along the side of a hill. In most places it's easy enough to cut into the the side of the hill, but at one point the trackline runs directly thru the center of an 18" diameter beech: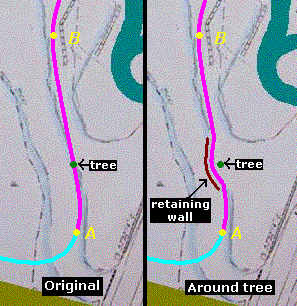 I'm not willing to cut down such a beautiful tree, so I decided to build a retaining wall and swing the track out and around it.

---
This shows the trackline. The red dots are the bottoms of the stakes, which I've shifted to the right in order to get around the beech (behind the blue X - there's a 4" tree in front of it)
(Note: click on any image to see a larger version)


---
I rented a one-man post hole digger - power tools are the only way to go!


---
I placed 4x4 posts in all the holes, then cut them to length (with a chainsaw, of course!).


---
I nailed 1x8's to the posts, and it's done!
All that's left is to backfill the thing, which I'll do when I rent a tractor to grade this stretch.


---
The view from the other end, looking west. Post holes are under the red dots.


---
The finished wall, looking west.
There's about 4 feet between the tree and wall, which will be just enough to sneak the tracks thru.


---
A view of the posts from below.
The wall is about 2 feet tall below the tree.


---
The finished wall, from below.


---