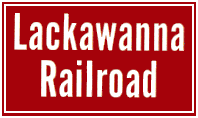 The Delaware, Lackawanna & Western Railroad

The Railroad
The DL&W RR was a coal/bridge line, originally conceived to haul coal out of Pennsylvania's Lackawanna River valley to it's eastern terminus, Hoboken NJ. It eventually extended Buffalo NY, and served as a land-bridge line between the Great Lakes (Buffalo) and the Atlantic ocean (Hoboken). The DL&W promoted and became famous for using clean-burning anthracite coal in it's locomotives, greatly reducing the coal soot in it's passenger trains. It's passenger mascot, Phoebe Snow - a woman in a white dress and white gloves - was created to demonstrate the relative cleanliness of it's trains.

The DL&W was formed in the early 1850's in order to promote the economy of Scranton, PA. It's heyday was in the 1930s, then went into a steady decline as America shifted away from coal as it's primary fuel, eventually merging with former rival Erie RR in 1960 to form the Erie Lackawanna (EL). This merger of 2 once-great roads, both going extinct as their primary livlihood dried up, then disappeared altogether when the EL was one of the six bankrupt railroads that formed Conrail in 1976.

The Lackawanna's Scranton locomotive shops exist today, in restored form, as Steamtown National Historic Site in Scranton, PA, an absolute must-see for any railfan.

Click here for a simple route-map of the DL&W.
Click here for a Google Maps tour of the Sussex branch.