Electronics has been a hobby of mine since about 1974 (when I was 12), and it's evolved into a facet of my career. I got into it as an offshoot of model railroading - to me, the systems that control the trains are as interesting as building the layout or running the trains themselves. Technology has come a long way since the early '70s... back then a simple TTL chip was a big deal! Nowadays my projects are based largely on microcontrollers, but I still do a lot of discrete digital and analog stuff.

I think my first "complex" project was the digital fast clock featured in the November 1978 issue of Model Railroader: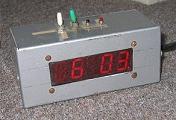 After 30+ years of living in the bottom of my electronics-project boxes, it still works!